Monday, August 14th - Planning Board Meeting
6:00 pm - Putnam Valley Town Hall 265 Oscawana Lake Rd. Putnam Valley
Agenda
Wednesday, August 16th - Town Board Work Session
6:00 pm - Putnam Valley Town Hall 265 Oscawana Lake Rd. Putnam Valley
Agenda Documents
Friday, August 18th - Planning Board Submission Deadline for 9/11 Mtg.
Monday, August 21st - Parks and Recreation Meeting - Cancelled
Wednesday, August 23rd - Town Board Meeting
6:00 pm - Putnam Valley Town Hall 265 Oscawana Lake Rd. Putnam Valley
Friday, August 25th - Planning Board Submission Deadline for 9/11 Mtg.
Saturday, August 26th - 2018 Preliminary Budget Meetings
9:00 AM Roaring Brook Lake
9:30 AM Lake Peekskill
10:00 AM Hilltop Estates
10:15 AM Lookout Manor
10:30 AM Lake Oscawana
10:45 AM Northview Estates
11:00 AM Wildwood Knolls
11:15 AM Abele Park
11:30 AM Brookdale Gardens
11:45 AM Glenmar Gardens
12:00 PM Mill Pond

Immediately Following:
Barger Pond
Putnam Acres
Sewer District #2
Drainage Districts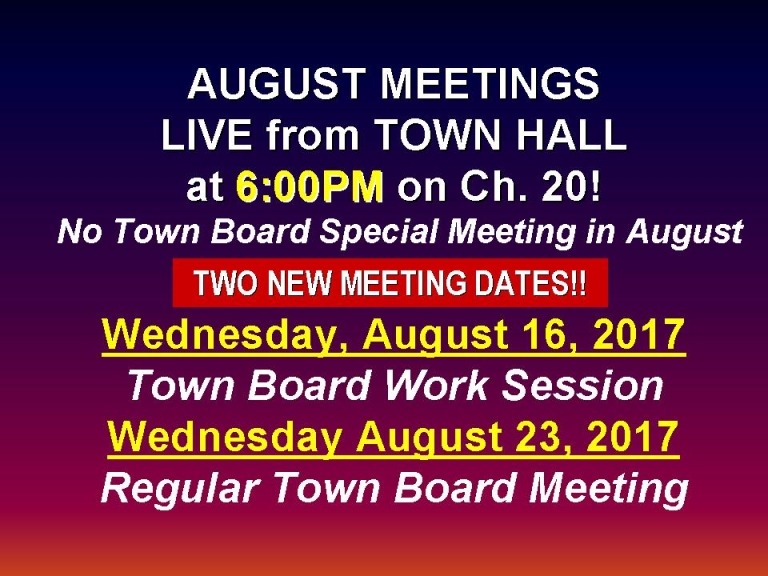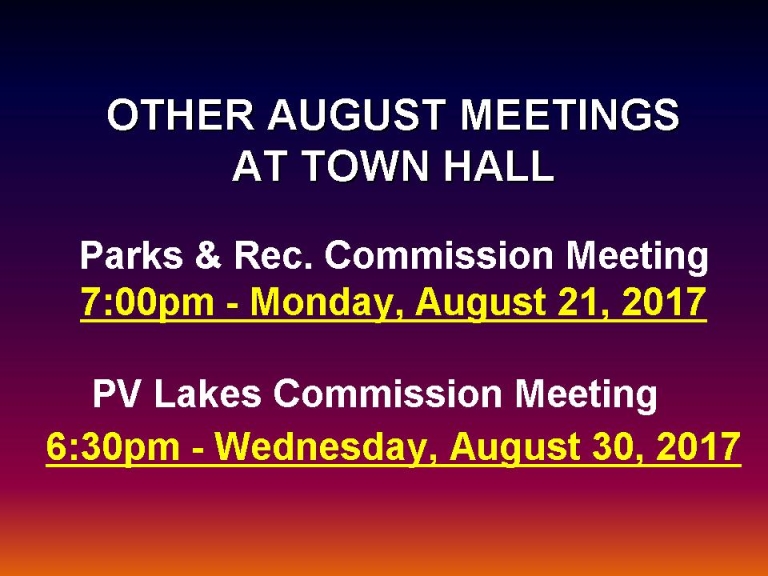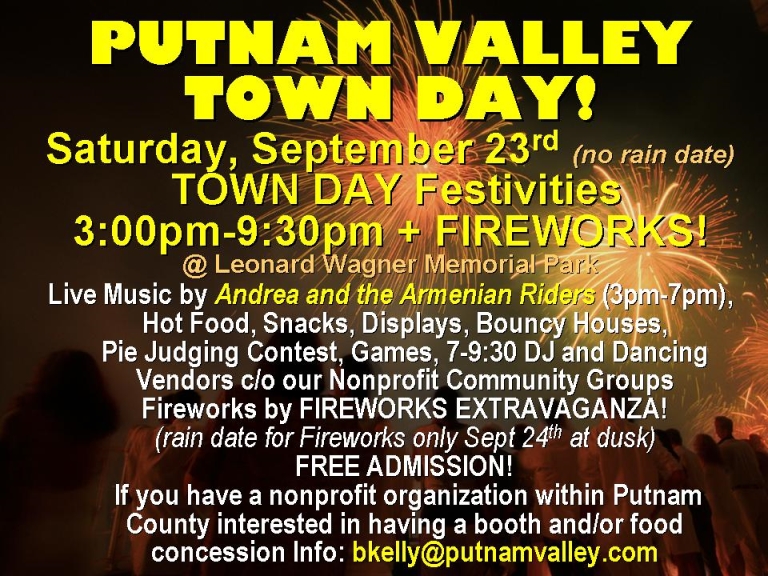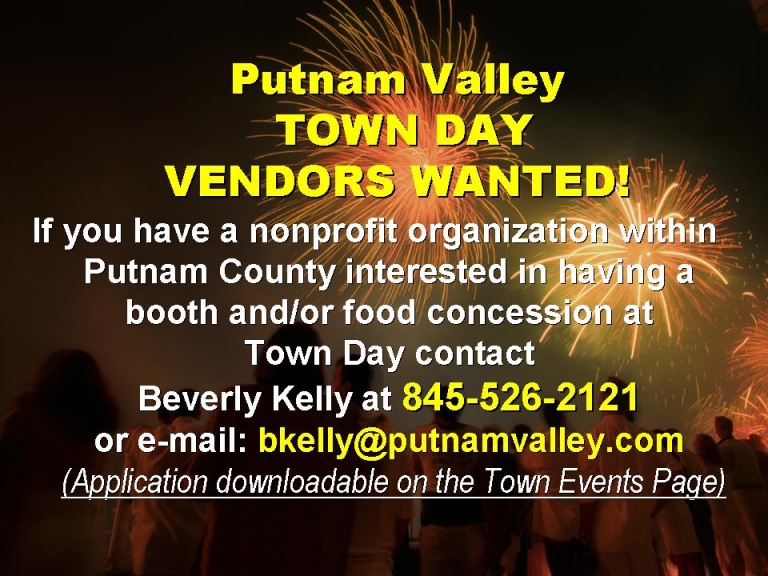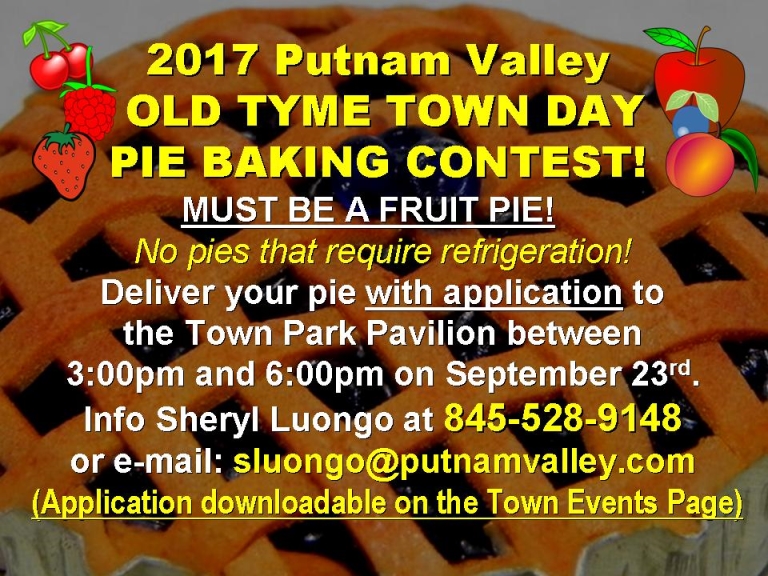 Pay Your Taxes Online
You can now pay your County and Town taxes online using your checking account in the Town of Putnam Valley. This is a free service that you can use to pay your taxes in the comfort of your own home. Simply click on "Pay Taxes" located on the right side of the Putnam Valley town website to pay your taxes online. You will be able to both pay your taxes and print out your receipt immediately. This is a secure site being offered by Chase Bank, our Tax Service Provider, Municity, and the Town of Putnam Valley. If you have any questions please contact Town Clerk, Sherry Howard at 845-526-3280 or at Showard@putnamvalley.com. Again, this is a free service being offered for the convenience of our residents.
Bulk Drop-off
2017 Schedule

DATES OF OPERATION:

** Saturday, August 19th **
Saturday, October 21st

HOURS OF OPERATION:
8:45 AM-11:45 AM

Coordinator: Susan L. Manno
Facilities Department
Putnam Valley Town Hall
(845) 526-9114
Place: Recycle Center next to PV Highway Dept.
265 Oscawana Lake Road
District & Civic Association Meetings/Events:
Lake Peekskill Civic Association
Lake Peekskill Civic Association Meeting
Monday, August 14, 2017 at 7:30 pm
Lake Peekskill Community Center
Northway, Lake Peekskill

Lake Peekskill 2014
Water Quality Monitoring Report
Roaring Brook Lake Property Owners Association
Pay Your 2017 RPLPOA Dues
$35 per household
Your dues support the RBLPOA website and the newsletter as well as
great community events like the Regatta and the Holiday Party.
Be a good neighbor. Volunteer, participate, pay your dues.
It's good karma!
Lake Oscawana Civic Association

Remember your annual $35 LOCA dues for 2017 are due.
Please send your dues today, by check, to LOCA,
P.O. Box 386, Putnam Valley NY 10579.
Thanks!!


Town Events Listing

On Town Website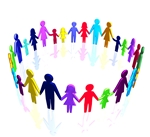 Check it Out!
Click Above to Jump to Events Listing